St. Maria Goretti
Parish Religious Education Process
Office Number 215-721-6559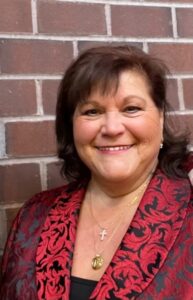 Maria Richardson,  Director of Family Faith Formation, Religious Education and Parish Services
maria.richardson@stmariagoretti.net

Jo Ann Prahler, Administrative Assistant  –  joann.prahler@stmariagoretti.net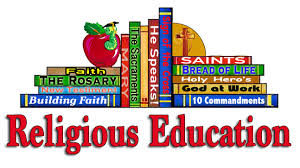 REGISTRATION
Current families receive an e-mail from info@ParishGiving.org to register online
New Family Registrations:
All PREP information is communicated directly to families via E-mail.
To sign up for our e-mail, please contact  maria.richardson@stmariagoretti.net
OVERVIEW
Classes taught in the Education Center will be available on Mondays,  6:15 pm to 7:30 pm for 1st through 7th grade on a first-come-first-served basis.
Family PREP Classes in the Education Center will be available on Sundays for 1st through 7th grade for parents and children twice a month after the 9:30 am Mass until 12:00 noon and at home in between weeks.
Home-Based PREP is available for all families and children in the 1st through 7th grade (including 2nd and 7th grade). Please know that our books from Our Sunday Visitor are very easy to follow and each chapter has a quiz and family page at the end.  They also provide incredible online resources that include music and many other supplements that are easy to use.
 Adaptive Faith Formation classes for children between grades 2 and 6 who have been diagnosed within the Autism spectrum are held during Sunday Family PREP time following the 9:30 Mass.
Catechesis of the Good Shepherd is also available at SMG Parish
DETAILS
Welcome to the St. Maria Goretti Parish Religious Education Process
Below is a brief description of our mission and our Programs.
Catechesis is a sharing of the teachings of Jesus Christ in such a way that each young person comes to know about and believes in God, enters a relationship with God and is transformed by Him. Our goal is to:
Teach the Paschal Mystery of Jesus Christ, the Son of God
Teach the doctrines of the Catholic faith
Draw young people to a relationship with Jesus Christ and discipleship through reception of the sacraments and scripture
 Teach the benefits of liturgical, communal and personal prayer
Build up a community of believers
Everything children learn in our programs plants seed on rich soil for building a strong relationship with our Lord, Jesus Christ, and a foundation in faith that will last a lifetime. All children in our programs learn in a safe and supportive atmosphere.  We offer several opportunities to meet the needs of our parish families:
Traditional Faith Formation Classes
         The St. Maria Goretti PREP Program offers religious education classes to children in Pre-K through 7 who attend public schools or private, non-Catholic schools.  We have dedicated Catechists who work with students at each grade level to help form their Catholic identity by gathering as a community to learn, prepare for the reception of the sacraments of First Penance, First Holy Communion and Confirmation,  pray the Rosary, attend Adoration of the Blessed Sacrament, go to Confessions and Stations of the Cross.
          Please note that all children need two consecutive years of Religious Education before receiving a sacrament.
We use Our Sunday Visitor, Alive in Christ series for all grades.
         Classes are offered September through April and families have a choice of three sessions:
Monday – 6:15 PM to 7:30 PM
 Each child will need to pass the mid-term and final assessment test to move on to the next grade level.
Sunday Family Prep
      This program is different than our traditional PREP classes because it is for both parents and children. Families are asked to attend the 9:30 AM Mass on Sunday.  After Mass the family will proceed to the education center for a light snack, then the children will attend a class similar to a traditional PREP class while the parents attend their own class. The parent classes will cover various Catholic topics.   This is a partial Home based catechesis program.  The classes meet twice a month at St. Maria Goretti and parents are asked to complete one chapter a week at home when they are not gathering.   Each child will need to pass the mid-term and final assessment test to move on to the next grade level.
Home-Based Catechesis
Home-based catechesis is the work of Catholic parents/guardians who undertake the formal religious education of their own child(ren) in their home.  The parish curriculum is used and each child will need to pass the mid-term and final assessment test to move on to the next grade level.   Families are also expected to attend sacraments, parish devotions and special celebrations with all PREP families.
Adaptive Faith Formation Class
           Our adaptive class is for any child between grades 2 and 6 who has been diagnosed within the Autism spectrum.
The classes are held during Sunday Family PREP time  following the 9:30 Mass. The children will learn about our faith and be prepared to receive their Sacraments during their second year of study.  If your child is not on the Autism spectrum but does have special needs please contact us. We will find a way to share our faith with them!
Catechesis of the Good Shepherd
https://stmariagoretti.net/catechesis-of-the-good-shepherd/

Catechesis of the Good Shepherd (CGS) is a worldwide Montessori-based method of religious formation for children ages 3-12, where children can grow in their relationship with God through a deep engagement in Scripture and Liturgy.  CGS is based on the belief that God and the child are already in a relationship. They only need the guidance and vocabulary to enable them to give expression to it. This is done by means of two things: a prepared environment called an Atrium and a trained catechist whose sources are Scripture and Liturgy. The Atrium contains materials that are handcrafted models of articles used in the Church's worship such as altar, baptism, liturgical colors, etc.  The environment also contains materials relating to the Scriptures such as parables, prophecies, geography of Israel and the life of Christ.
The catechist offers presentations to the child using the materials.  These presentations are chosen to communicate the essentials of our faith in a manner appropriate to the child's development. The child is then invited to internalize and respond to the presentation by working with the materials themselves.  CGS is divided into three levels: Level 1 for ages 3-6, Level 2 is for ages 6-9 and Level 3 for ages 9-12 .
Paperwork: Registration, Student Release Form, COVID 19 Forms:PREP Registration 2023-2024
Calendar: Dates and Chapter Calendar:2023-2024 PREP Calendar5.9.23
Handbook:SMG PREP HANDBOOK 2023-2024
Home-Based Handbook:SMG PREP Home Based handbook 2023-2024
CGS/ Kindergarten: https://stmariagoretti.net/catechesis-of-the-good-shepherd/
 Resource Guides now available in English and Spanish on the
Office for Child and Youth Protection's (OCYP) website at www.childyouthprotection.org . Trauma Informed
Personal Safety, Working with Students Who Have Experienced Trauma, and Prevention Tips for Parents