https://www.eventbrite.com/e/st-rose-dance-tickets-89926513623
    ST. ROSE DANCE – Supporting Mater Dei CYO
·         GRADES 6th 7th & 8th 
·         Date:    Friday, January 31, 2020
·         Time:    7:30PM to 10PM
·         Where:  St. Rose of Lima Gym – Enter through main doors off Pennsylvania Ave.  
·         Admission: $10 
·         TICKET INFORMATION – Please use the link below to purchase tickets. 
https://www.eventbrite.com/e/st-rose-dance-tickets-89926513623
Ticket Sales: We encourage all tickets be purchased online – Once you purchase your ticket, it will be sent to your listed email. Printable PDF tickets will be attached to the email or you can link your ticket to your smart phone. This ticket will include a bar code that can only be scanned once. After your ticket has been scanned, the bar code is no longer valid. Tickets will also be available at the door with proper School ID. Pre-ticket sales will NO longer be available at Mater Dei Catholic School or at St. Rose Parish Center.
Please note that proper dress is required for all students attending. 
Looking forward to seeing you! 
Mater Dei CYO Board
SPRING SPORTS REGISTRATION OPEN NOW!
Registration for Mater Dei CYO Spring Sports is now OPEN.  CYO Spring Sports include Track Grades K thru 8, Baseball Grades 5 thru 8, Softball Grades 5 thru 8, and High School Co-Ed Volleyball.  The registration fee is $95, Sub-Novice Track is $45.  Families must be registered in their respective parish:  St. Stanislaus, St. Rose of Lima or St. Maria Goretti and students (Grades K thru 8) must be enrolled in Catholic School, Private Catholic School or their respective Parish PREP program.  Practices begin March 1st and early registration is encouraged! 
Go to www.materdeicyo.sportssignup.com to register.  Avoid the late fee and register today.  Questions?  Email:joecampbell22@verizon.net or materdeicyopa@gmail.com.  Thinking about coaching? Please register as a volunteer on Sports Sign Up or contact Joe Campbell.   A coaches info meeting will be scheduled for late February..   Please RSVP by February 15th!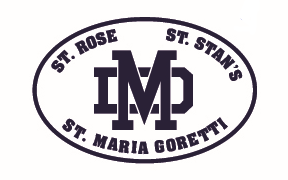 St. Maria Goretti Parish, St. Stanislaus Parish and St. Rose of Lima Parish CYO
have joined together…Three into One!
Growing – Praying – Serving – Playing
STRONGER TOGETHER!
Any child that is a member of St. Maria Goretti Parish is eligible to participate.
 

2019 SMG BOARD MEMBERS
       President – Jeff Benner – 215-513-1577
Dave Mazeroski – 267-575- 3238
Geri Salanik – 215-816- 6310
 Amy Benner – 215-513-1577
  Maria Richardson – 215-721-6559


CYO Sports is one component of a parish's comprehensive youth 
ministry program which enables the partnership of parents, coaches
and adult leaders to manage and support a sports program that allows
youth to grow in their relationship with God and come to better
understand themselves and the Catholic Faith.  The spiritual, social, service
and athletic dimensions of youth ministry are under the supervision of an
elected CYO board member.