Where is the Parish Library located?
The Parish Library is located on the upper level of the Parish Center.  It is an air conditioned room comprised of unique areas for the faith formation of adults and youth.  A comfortable and cozy reading area for adults and a reading nook for children are available.  Children must be accompanied and supervised at all times by an adult when visiting the Parish Library.
When is it open?
Parishioners and non-parishioners may visit the parish library on weekdays from 9:00 AM to 4:00 PM.  To ensure the safety of our youth and the security of our Parish Center, no visitors will be permitted to access the parish library in the evenings or on weekends.
When the Parish Center is closed due to a holyday, holiday, or inclement weather, the Parish Library is also closed.
Circulation Policy
Books, DVDs, and CDs may be borrowed for a period of three weeks and can be renewed for a longer period.  When signing out a book or resource, please print the date, your first and last name, and your phone number on the borrower's card located inside each book or resource.  The card(s) may be turned in to the receptionist at the front desk upon leaving the Parish Center.
Return Policy
Books and resources should be returned directly to the parish library in the designated basket on any weekday from 9:00 AM to 4:00 PM.  You will be contacted with a friendly reminder for any item more than one week overdue.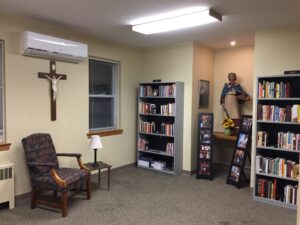 "A paragraph, a sentence, even a word can transform a life.
Amidst our radios, televisions, cell phones, iPods, and computers,
we should set time aside to read.
A book can touch, can even heal a wound,
returning a reader to a full life."
15 Days of Prayer with Henri Nouwen
by Robert Waldron