Save the date for SMG's 1st Annual Gorettifest
Date: Friday, September 28, 2018
Time: 5 to 10pm
Where: St. Maria Goretti Church Parking Lot,
Cowpath & Derstine Roads, Hatfield
LIVE MUSIC by Rollin' & Tumblin'                                                                                    CORNHOLE TOURNAMENT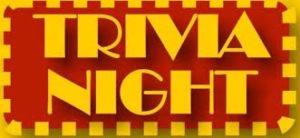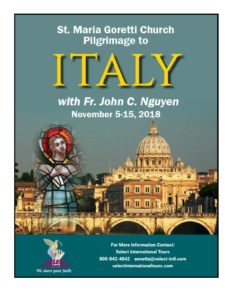 TRIVIA NIGHT
FRIDAY, OCTOBER 5TH IN DREXEL HALL
Registration Form:
Trivia Night Registration2018
Parish Pilgrimage to Italy
November 5 – 15, 2018
Please join Father Chung and fellow parishioners as they tour
the Saint Maria Goretti Shrine, Assisi, Florence and so much more!
For more details click on the link or call Pat Conroy at 215-260-5480.
Scams and Fraud Awareness
Scams and fraud are unfortunately a very common occurrence in our society today.  Staying informed and educated on the various types of scams is the #1 way to protect you from being a victim.
Scams and fraud don't just target Senior Citizens, but individuals through identity theft, small business owners, and community organizations such as Churches.  The threats can come many ways:  over the phone, through Social Media, email or online, or even a breakdown in security at your local supermarket.
Check the following websites for up to date information on the latest scams to keep you educated and to learn what to do if you have been a victim of a scam or fraud.
http://scamawareness.org/common-scams
https://www.consumer.ftc.gov/features/scam-alerts
You can order a copy of a FREE Consumer Action Handbook
If you have any questions about this information, please contact Amy Juarez with the Eldercare Assistance Program at 215-721-0199 x225.
CATHOLIC RELIEF SERVICES CELEBRATES 75 YEARS
Catholic Relief Services is celebrating its 75th anniversary! Join in on the celebration by visiting the special CRS 75th Anniversary website, found at https://75.crs.org/ where you can learn more about CRS's story and find ways to help the most vulnerable among us.