SMG Family Faith Opportunities 2022-2023
Hello!  It is preferred that you register for all events at https://stmariagoretti.net/registration-information/
 If you need paper registration, please find it here: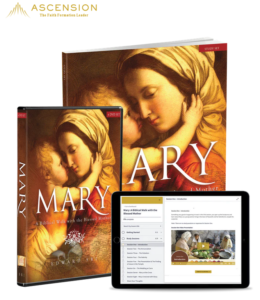 Registration paperwork:
Sunday's beginning April 16, 2023!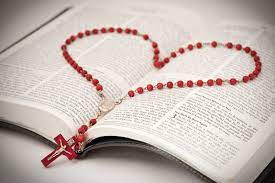 Mini Marian Retreat
Friday, May 12, 2023
9:00 AM to 12:00 Noon
Marian retreat flyer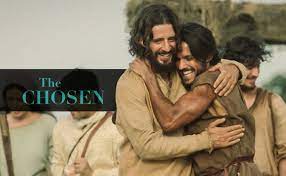 The Chosen Season 3 dates available soon!
Come one and all!
Come and see what they saw!
ADULT FAITH FORMATION
WINE & CHEESE DISCUSSION GROUP

6:00 PM to 7:00 PM – IHM Room
Watch at home 2 shows per month and come discuss what YOU saw!
Watch in mobile app: www.thechosen.tv/app, you can stream to your TV using another device, such as Roku, Apple TV, Fire TV, Android TV, Chromecast, etc.
Free on YouTube and AMAZON Prime TV.
Watch it on web player: https://studios.vidangel.com/the-chosen/player
Purchase the DVD/BluRay: https://thechosengifts.com/collections/best-sellers
 See a special interview here:
https://www.youtube.com/watch?v=W84qXA6WwZQ
Questions: Contact Maria Richardson
Director of Family Faith Formation, Religious Education and Parish Services
Maria.richardson@stmariagoretti.net or 215-721-6559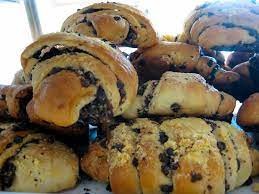 First Friday Devotions
Mass, short teaching on Mass Confusion!
Fall dates available soon!
After 8:30 AM Mass in the IHM Room

Gertrude the Great – "For each Mass we hear with devotion, Our Lord sends a saint to comfort us at death." "Each time we look at The Most Blessed Sacrament our place in heaven is raised forever"
Padre Pio – "Every holy Mass, heard with devotion, produces in our souls marvelous effects, abundant spiritual and material graces which we, ourselves, do not know."
John Vianney – "If we knew the value of the Mass, we would die for joy.
GRACES DERIVED FROM ASSISTING AT MASS
Holy Mass is the most powerful atonement for your sins.
At the hour of death, the Masses you have heard will be your greatest consolation.
Every Mass will go with you to judgement and plead for pardon.
You afford the souls in purgatory the greatest possible relief.
You are preserved from dangers and misfortunes which otherwise might have befallen you. You shorten your purgatory.
Every Mass wins for you a higher degree of glory in heaven.
You kneel amidst a multitude of holy angels who are present with reverential awe.
You are blessed in your temporal goods and affairs.
One Mass heard during your life will be of more benefit to you than many heard for you after your death.
Questions: Contact Maria Richardson
Maria.richardson@stmariagoretti.net or 215-721-6559
No registration is necessary ~ Free Will Donations are Appreciated!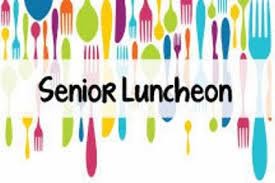 CLUB 50+ Luncheon
Education Center 12:00 Noon
Followed by Game Day 1:00 PM to 3:00 PM
Followed by the Divine Mercy Chaplet 3:00 PM to 3:15 PM
Come for part or all of the afternoon activity!
Cost: $ 9.00 Per Person for lunch.  Please sign up one week in advance.
January 25, 2023
February 15, 2023
March 15, 2023
April 26, 2023
Questions: Contact Maria Richardson
Director of Family Faith Formation, Religious Education and Parish Services
Maria.richardson@stmariagoretti.net or 215-721-6559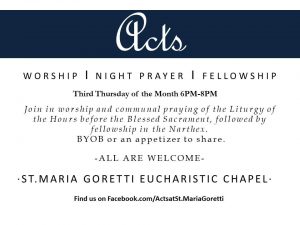 Adult Faith Formation Events
Solemn Novena to Saint Maria Goretti
Virtual Tour of Saint Maria Goretti Church
Eucharistic Adoration Brochure