Hello!  It is preferred that you register for all events at https://stmariagoretti.net/registration-information/
 If you need paper registration, please find the form in the church narthex.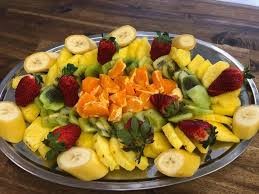 First Friday Devotions
Mass, short teaching on Saints & Breakfast!
September 2021 through May, 2022
8:30 AM in Church
Questions: Contact Maria Richardson
Maria.richardson@stmariagoretti.net or 215-721-6559
According to this devotion, the first Friday of each month was designated by Jesus himself as consecrated to honoring his Sacred Heart, to increase our love for him and to make reparation for past and present offenses against his love.
St. Margaret Mary Alacoque (1647-1690) received these 12 promises of the Sacred Heart to those who attend Mass and receive Holy Communion for 9 consecutive Fridays
"I will give them all the graces necessary in their state of life."
"I will establish peace in their homes."
"I will comfort them in their afflictions."
"I will be their secure refuge during life, and above all in death."
"I will bestow a large blessing upon all their undertakings."
"Sinners shall find in my Heart the source and the infinite ocean of mercy."
"Tepid souls shall grow fervent."
"Fervent souls shall quickly mount to high perfection."
"I will bless every place where a picture of My Heart shall be set up and honored."
"I will give to priests the gift of touching the most hardened hearts."
"Those who shall promote this devotion shall have their names written in My Heart, never to be blotted out."
"I promise thee in the excessive mercy of my Heart that my all-powerful love will grant to all those who communicate on the First Friday in nine consecutive months, the grace of final penitence; they shall not die in my disgrace nor without receiving the sacraments; my divine Heart shall be their safe refuge in this last moment."
No registration necessary ~ Free Will Donations Appreciated!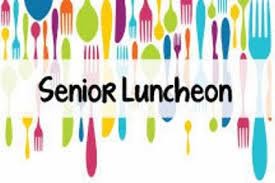 Tuesday, September 28, 2021
Luncheon~ Church Narthex 12:00 Noon to 1:00 PM
Followed by Game Day 1:00 PM to 3:00 PM
Followed by the Divine Mercy Chaplet 3:00 PM to 3:15 PM
Come for part or all of the afternoon activity!
Cost: $ 9.00 Per Person for lunch.  Sign up for lunch is a must before September 15th!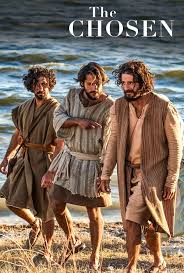 Come one and all!
Come and see what they saw!
ADULT FAITH FORMATION
WINE & CHEESE DISCUSSION GROUP
The Third Wednesday of the Month
January 2022 through April 2022
6:00 PM to 7:00 PM – IHM Room
Watch at home 2 shows per month and come discuss what YOU saw!

How to watch:
Watch in mobile app: www.thechosen.tv/app, you can stream to your TV using another device, such as Roku, Apple TV, Fire TV, Android TV, Chromecast, etc.
Free on YouTube.
Watch it on web player: https://studios.vidangel.com/the-chosen/player
Purchase the DVD/BluRay: https://thechosengifts.com/collections/best-sellers
Questions: Contact Maria Richardson
Director of Family Faith Formation, Religious Education and Parish Services
Maria.richardson@stmariagoretti.net or 215-721-6559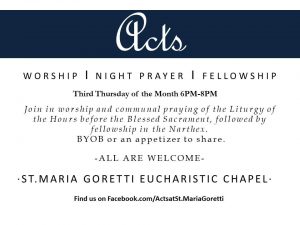 Adult Faith Formation Events
Solemn Novena to Saint Maria Goretti
Virtual Tour of Saint Maria Goretti Church
Eucharistic Adoration Brochure