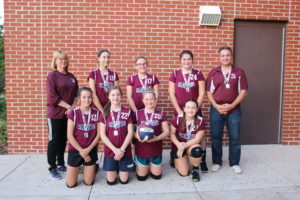 Congratulations to our Varsity Girls Volleyball Team who 
placed 2nd in the Archbishop Wood Tournament!!!!!!
 

2017 – 2018 BOARD MEMBERS
       President – Jeff Benner – 215-513-1577
Vice President – John Cashley – 267-467-0441
Treasurer – Dave Mazeroski – 267-575- 3238
Athletic Director – Geri Salanik – 215-816- 6310
 Secretary – Amy Benner – 215-513-1577
Director of Family Faith Formation, Religious Education and Parish Services
  Maria Richardson


 At – Large Positions : Mickey Kutzler & Brian Pickett
CYO Sports is one component of a parish's comprehensive youth 
ministry program which enables the partnership of parents, coaches
and adult leaders to manage and support a sports program that allows
youth to grow in their relationship with God and come to better
understand themselves and the Catholic Faith.  The spiritual, social, service
and athletic dimensions of youth ministry are under the supervision of an
elected CYO board member.